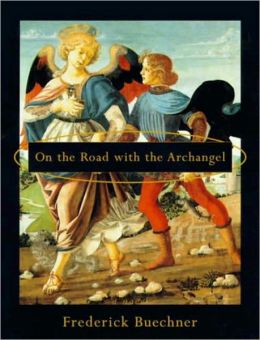 On the Road with the Archangel
Frederick Buechner
On Google+ as
+Frederick Buechner
After getting ripped off by Barnes and Noble (I didn't realize it at the time, but some lawyer informed me that I was, in fact, ripped off) I was included in a settlement. As a result, I had a couple pennies to rub together in my Barnes and Noble account. A good friend of mine,
+Jonathan Roberts
, had recommended that I read some Frederick Buechner. He said that he really enjoyed Buechner's work and that I would probably enjoy it too. I went ahead and purchased a couple of his nook-books and just finished reading
On the Road with the Archangel
, my second Buechner book. My first was
The Longing for Home
. I am glad that I have been introduced to Mr. Buechner.
Technical Merit
On the Road with the Archangel
, as with Buechner's other work, is phenomenally written. The prose takes on the aura of poetry. But alas, I am repeating the things I said in my previous review.
One thing to note about this work, it is a retelling of an ancient tale. Therefore, the author did not fabricate this plot. He may have embellished details and added some interpretation, but the story is borrowed from the Deuterocanonical Book of Tobit. Therefore, this is a different type of writing since it relies on different factors than
The Longing for Home
, which was more of a memoir.
Taking all things into consideration, I give
On the
Road with the Archangel
4 out of 5 stars for technical merit. I enjoyed Buechner's storytelling and his theological interjections and clarifications a lot. He was able to take the story of Tobit and make it clear and accessible without removing its ancient feel.
Review
Tobit is all about prayers and how God provides answers to them. A man named Tobit goes through several circumstances which leave him blind and desperate to end his life. Being a religious man, he prays that God take him from this world honorably. Simultaneously, a young woman named Sarah also desperately prays to die as her 7 husbands are savagely murdered by a demon named Asmodeus. As a result, her family comes under suspicion and shame in the community.
Tobit, in preparation for his inevitable death, sends his son Tobias on a journey to retrieve some money that he had stored in a far away place (which happens to be Sarah's home town). In one fell swoop, the archangel Raphael, angel who delivers prayers and answers, disguises himself as Tobit's distant relative named Azariah and goes with Tobias on the journey.
During the course of the journey, Azariah (Raphael the Archangel) provides the answers to each of their prayers while weaving several surprises along the way.
Conclusion
This is a really well-written book. I personally enjoyed it a lot. I come from the world of Christianity that does not take Apocryphal/Deuterocanonical books seriously. Unfortunately, I had not read the book of Tobit previous to this experience. However, I can see the value of this book as a mythological story that highlights God's character. I recommend
On the
Road with the Archangel
to any who can read this book with that mindset.